Bail Bonds Service in Irvine, CA – Get Real Help Now!
Many people find themselves clueless when they learn that somebody close to them has been placed in jail. Their anxiety is compounded by the fact that they do not know how to go about securing his/her release. This lack of knowledge becomes a problem when time is of the essence. Additionally, finding a trustworthy Irvine bail bonds agent of caliber is by no means an easy task.
If you are looking for bail bond agents in Irvine, or Orange County bail bonds, experience should form the main criteria. Judging by our commendable 60-year record of being in business, Angels Bail Bonds is unquestioningly the most reliable company in the Irvine area of Southern California. Our bail services are renowned in California for their promptness. Indeed, no other Irvine bail bondsman can match our quest for delivering excellence in bail services.
Angels Bail Bonds enjoys a reputation for efficiency in posting bail bonds in Irvine. As our bail bond agents possess in-depth bail bonds information besides comprehensive knowledge of the legal system and are responsible for securing the release of a sizable number of arrestees from Orange County jails. We respect privacy and will be very discreet when taking care of your situation. Our bondsmen have successfully handled the most complicated cases related to bail bonds in Irvine.
So if you want a professional bondsman in California, we are at your service, 24 hours a day, 7 days a week. In addition, a Angels Bail Bonds agent will be more than willing to provide specific bail information.
[ps_reviews]
What you need to know about bail bonds in Irvine
If you're reading this right now, that means that the unthinkable has happened. Someone you know and love has been arrested and you want to get them out of jail. You probably have many questions about how bail bonds work and what to do next. The process of getting someone out of jail can seem overwhelming at first, but in actuality, it is a very simple and straightforward procedure. On this page, you'll find all of the info you need in order to make informed decisions about what to do in this situation. This is a free service provided by Angels Bail Bonds. If at any time you wish to talk to a friendly and professional bail bonds agent you can do so by dialing 949-367-1727, we have agents at our office right now to give you real help now. You need to know your rights.
What happens when someone is arrested in Irvine?
When someone is arrested in Irvine they are taken to one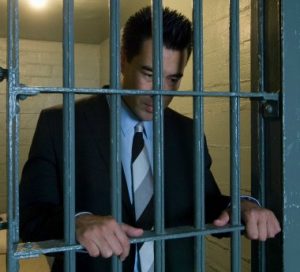 of two locations, the Irvine City Jail or the James A. Musick Facility and processed as an inmate. As part of this process, their fingerprints are taken and checked against a number of databases to determine their identity and if they have any outstanding warrants. A mug shot is also taken. The process of checking into Irvine Jail may be much quicker than at the County Jail. After they have been checked in they are eligible to be bailed out of jail in minutes by a licensed bail bonds agent.
How much does it cost to bail someone out of jail?
Once the inmate has been processed into jail their bail amount will be determined. As of right now in 2016 there is not standard for determining what your bail is going to be. It is 100% dependent on what the judge determines it should be.
In order to be bailed out of jail in Irvine, there are a few options.
1. Put up the full amount of the bond with the court. This money must be certified funds. All of this money will be returned once the case has been resolved in court.
2. Employ the services of a bail bondsman, who typically charge rates of 10% of the total bond amount. 10% is not the lowest rates and there are special circumstances where you can get bailed out for less, but collateral may be needed. The fee, a bail bondsman charges is a non-refundable, one-time fee for posting the bond. This money is paid to the bail bondsman for the service of putting up the full bond amount with the court.
In addition to the 10% payment to the bail bondsman, someone will also have to sign on behalf of the defendant as the indemnitor, guaranteeing that they will make all of their court appearances and that they are financially responsible for that person in case they don't go to jail. We accept all major credit cards and have exclusive financing options to assist in helping you get your loved on out of jail fast. We have bail agents ready to take your call now.
Which Irvine bail bonds agent is best for me?
It is important that you choose a bail bonds company that has a strong reputation in the community it serves. We recommend that you check out the Yelp page of any Irvine bail bondsman that you are thinking about using so that you can get unbiased opinions from third parties about the quality of the service provided by that bail agency. There are a number of companies to choose from when looking for bail bonds Orange County, please do your homework and read reviews. Just because you have been arrested it doesn't make you a criminal. Get real help.

Where is the Irvine Police Department?
The Irvine Police Department's headquarters is located at: 1 Civic Center Plaza, Irvine, CA 92606.
You can reach the department by phone at 949-724-7000.
Check out the victim's assistant services and programs here. The domestic violence assistant program can be reached at (714) 935-7956. 
You can also visit the department's website for further information.
The Irvine Police Department is divided into three service areas; Crossroads, Portola, and University.
Crossroads serves 22 residential villages including College, Park Deerfield, El Camino Glen, Greentree, Harvard Square, Heritage Park, Los Olivos, Oak Creek, Old Towne, Orange Tree, Quail Hill, Shady Canyon, Smoketree, The Colony, The Meadows, The Ranch, The Spectrum, The Willows, Walnut Square, Westpark, Windwood and Woodbridge. The Crossroads Area commander is Bill Whalen.
Portola serves 14 residential villages including Cypress Village, Lower Peter's Canyon, North Park, North Park Square, Northwood, Northwood Point, Orange County Great Park, Orchard Hills, Portola Springs, Racquet Club, Stonegate, West Irvine, Woodbury, and Woodbury East. The Portola Area commander is Mathew Mahoney.
University serves 9 residential villages including Rancho San Joaquin, Turtle Ridge, Turtle Rock, University Park, University Town Center, West Park Village 1, Bommer Canyon Open Space Preserve, Orchard Hills Open Space Preserve, and Quail Hill Open Space Preserve. The University Area commander is Mike Hallinan.
Our agents cover all areas. Call us for Real Help Now!
Where is the Irvine Jail?
When we are helping those who need bail bonds in Irvine we spend a lot of time at the local Irvine jail. The Irvine jail is located in the same complex as the police department. It is at 1 Civic Center Plaza, Irvine, CA 92606. You can call the jail at 949-724-7000. This is a 24-bed jail facility which can receive male, female and juvenile inmates.
Get Real Help from a Licensed Irvine Bail Bonds Agent!
There is also a chance your loved one could be transferred to the Orange County jail, which has its own completely different set of rules and procedures. Read more about Orange County bail bonds.
Who is the chief of police in Irvine?
Mike Hamel is the chief of police in Irvine. Chief Hamel has been in law enforcement for over 22 years and began his career with the Los Angeles Police Department. He joined the Irvine Police Department in 1995. Chief Hamel holds a bachelor's degree from the University of California, Irvine in Criminology, Law, and Society. His master's degree is in Public Policy Administration from California State University, Long Beach. In addition, to his duties with the Irvine Police Department, Hamel has been an adjunct faculty member of the University of Phoenix.
To ensure quick release, our team of bail bondsman in Irvine have a great relationship with the Irvine Police Department.
Who is the mayor of Irvine?
Steven S. Choi, Ph.D. is the mayor of Irvine. Mayor Choi was re-elected to the position of Mayor in 2014 after serving two years previously as mayor and eight years as a city councilman. Prior to serving the city as a city councilman, Choi served six years as Trustee of the Irvine Unified School District. Mayor Choi earned his bachelor's degree from Jyung Hee University in Seoul, Korea. He earned his master's degree in Library Science from Louisiana State University and his doctorate in Library and Information Science from the University of Pittsburgh.
Who are the representatives for Irvine?
Irvine is in the 37th Senate District in the California State Senate and is represented by Republican John Moorlach. Within the California State Assembly, Irvine is in the 68th Assembly District and is represented by Republican Don Wagner and in the74th Assembly District represented by Republican Matthew Harper.  Irvine is in the 45th district in the United States House of Representatives and is represented by Republican Mimi Walters.
Demographic data about Irvine
As of 2010, the population in Irvine is 212,375. This is an increase from 143,072 in the 2000 census. The population of Irvine consists of the following: 107,215(50.5%) White, 3,718 (1.8%) African-American, 355 (.2%) Native American, 83,176 (39.2%) Asian, 334 (0.2%) Pacific Islander, 5,867 (2.8%) from other races and 11,710 (5.5%) from two or more races.
Fun Facts about Irvine
Irvine was designed to be a fully master planned city by architect William Pereira and Raymond Watson of the Irvine Company in the 1960's. The city is divided into over 30 "villages", each with residential developments, schools, shopping centers, religious institutions, and parks or green spaces. Each village is divided from other villages by six-lane streets. The city encompasses 66 square miles and was incorporated in December of 1971.
Several universities and colleges call Irvine home including University of California, Irvine, Concordia University, Irvine Valley College, University of Southern California, Brandman University, California Southern University, Stanbridge College, California State University Fullerton, University of La Verne, Pepperdine University, Alliant International University, Kaplan International College, Fashion Institute of Design and Merchandising and Webster University.
The good news is Irvine has been ranked on the "America's Safest Big City" list by the FBI every year since 2005.
Are you ready to get real help now? Call us for all Irvine Bail Bonds services!