Certified Bail Bondsmen in Huntington Beach, CA
What to do if your friend or family member is arrested in Huntington Beach?
When someone is arrested in Huntington Beach, they are taken to the Huntington Beach Jail for temporary holding until they are either bailed out or transferred to the Orange County Jail in Santa Ana.
If someone you know is arrested in Huntington Beach it is important that you bail them out before they are transferred to the County Jail. The Huntington Beach Jail is smaller and cleaner, and the staff are friendlier and more responsive to interactions from the public. Bailing someone out of the Huntington Beach Jail is a relatively easy process and can be done in less than an hour in most cases.
If you wait too long to bail someone out of Huntington Beach Jail, they will be transferred to the County Jail in Santa Ana. The check in process at this jail can take 6-8 hours, which means that it could take some time before we even know if the person is in the jail or not.
The Santa Ana Jail is also a scarier place to be. Whereas inmates at Huntington Beach Jail are typically held for at most a day, inmates at the Santa Ana Jail could be held there for months. One result of this is that gangs have had time to organize at the Santa Ana Jail. This is not a place that you would want your friend or family member to be at if it can be avoided.
You should call a bail bondsman immediately so that they can provide you with bail information and let you know about the status of the person at the Huntington Beach Jail. If you act quickly you can prevent your friend or family member from being transferred to a nightmare situation at the Santa Ana Jail.
Angels Bail Bonds has agents on standby in Huntington Beach to provide you with a friendly and professional bail bond service. Call us immediately so that we can explain to you how the bail process works and let you know what it will take to get your friend or family member out of jail.
Our Huntington Beach Office can be reached at: 714-795-6444.
[ps_reviews]
Bail Bonds Huntington Beach
What you need to know about how bail bonds work?
If you're reading this right now, that means that the unthinkable has happened. Someone you know has been arrested and you want to get them out of jail. You probably have a lot of questions about what to do. The process of getting someone out of jail can seem overwhelming at first, but in actuality, it is a very simple and straightforward procedure. On this page, you'll find all of the information you need in order to make informed decisions about what to do in this bail bonds situation. If at any time you wish to talk to a friendly and professional bail agent you can do so by dialing 714-795-6444.
What happens when someone gets arrested?
When someone is arrested in Huntington Beach they are taken to the local jail and processed as an inmate. As part of this process, their fingerprints are taken and checked against a number of databases to determine their identity and if they have any outstanding warrants. A mug shot is also taken. The process of checking into the jail may take up to several hours. After they have been checked in they are eligible to be bailed out.
How much does it cost to bail someone out of the local jail?
Once the inmate has been processed into jail their bail amount will be determined. In order to be bailed out of jail, there are a few options.
1. Put up the full amount of the bond with the court. This money must be certified funds. All of this money will be returned once the case has been resolved in court.
2. Employ the services of a bail bondsman, who typically charge 10% of the total bond amount. The fee the agent charges is a non-refundable, one-time fee for posting the bond. This money is paid to the company for the service of putting up the full bond amount with the court.
In addition to paying the 10% to the bail bondsman, someone will also have to sign on behalf of the defendant as the indemnitor, guaranteeing that they will make all of their court appearances and that they are financially responsible for that person in case they don't go to jail.
Which local bail bondsman should I use?
It is important that you choose a bail bonds company that has a strong reputation in the community it serves. We recommend that you check out the Yelp page of any bail bondsman that you are thinking about using so that you can get unbiased opinions from third parties about the quality of the service provided by that bail agency. If you are looking for a reliable Huntington Beach Bail Bonds agent then we encourage you to call us today!
Huntington Beach Police Station
The Huntington Beach Police Station is located at 2000 Main Street, Huntington Beach, CA 92648. The HB Jail is located at the Huntington Beach Police department, though it can sometimes be hard for people to find.
If you park in the main parking lot for the Police Station off of Main Street you will need to walk down the steps and follow the signs for the jail.
For easier access, you should park on Park Street and walk straight to the jail. Use this map for reference: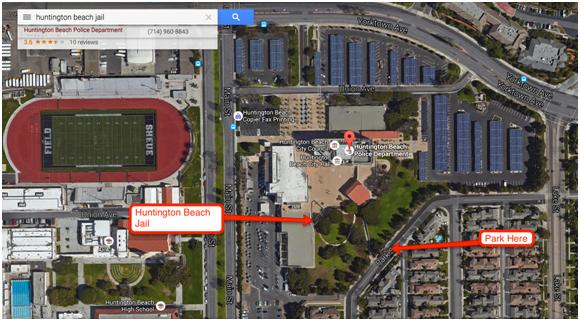 You can contact the jail and request inmate information by calling (888) 415-6784.
You will need the first and last name of the person you are calling about, as well as their date of birth or age. With this information, the jailer will be able to tell you more specific information about their case, like how much their bail is and any potential holds they might have.
If someone is arrested by the Huntington Beach Police Department, they will be booked into the Huntington Beach Jail. At that point, a bail amount will be issued and they will require a bail bond to be released from Jail.
Angels Bail Bonds has been serving Southern California since 1959, and our experienced agents are here to make sure that you make an informed decision about how to proceed during these difficult times. You may contact our Huntington Beach Bail Bonds location by calling: 714-795-6444
Our agents are ready to receive your call 24 hours a day and on standby ready to take your call and assist you in this difficult time.
Huntington Beach Jail Information
The Huntington Beach Police Station is a substation of the Orange County Jail.
Both Males and Females are booked into this facility and housed in separate areas. Inmates booked into the Huntington Beach Jail will remain there temporarily until they are either bailed out or transferred to the Orange County Jail in Santa Ana. The transfer bus picks up inmates from the Huntington Beach Jail every morning to take them to the jail in Santa Ana.
It is in the inmate's best interest to be bailed out before they are transferred to the Orange County Jail. It can take up to a day for an inmate to be processed into the jail, and it can take up to 12 hours for them to be released.
The Santa Ana Jail is a large jail that receives inmates from all over the county. The high volume of inmates transferred to this facility means that there are often administrative backlogs that cause substantial delays when bailing someone out from this jail.
If the inmate is bailed out at the Huntington Beach Jail they could be released in as little as 20 minutes, depending on when they were booked in.
If they are arrested for a DUI or other alcohol related offense, they will be held for 6-8 hours before they can be released.
For more information on how to secure the release of someone in jail, call Angels Bail Bonds at 714-795-6444. We will be able to provide you up to date bail information as well as assist you in the bail bond process.
Who is the chief of police?
Robert Handy is the chief of police in Huntington Beach. He has served as the head officer since December 7th, 2013. Chief Handy joined the police department after serving as chief of police in the San Bernardino Police Department. Prior to serving in San Bernardino, Handy served 21 years with the Phoenix, Arizona Police Department. He earned a Bachelor's degree from the University of Arizona in Public Administration and a Master's degree in Public Administration from Arizona State University. He is also a graduate of the FBI National Academy. In addition to his work in law enforcement, he has been an adjunct faculty member at ASU in Criminal Justice for 13 years.
Who is the mayor of the city?
Jim Katapodis is the mayor of Huntington Beach. Mayor Katapodis has been a resident since 1989. Katapodis began serving as mayor in 2014. Prior to becoming involved in local politics, he was a Sergeant in the Los Angeles Police Department. He holds a Bachelor's degree in Criminal Justice Management and a Master's degree in Organizational Leadership. He is an adjunct faculty member at the Union Institute and University, Palomer College, and Woodbury University.
Who are the local representatives for the region?
Huntington Beach is in the 37th Senate District in the California State Senate and is represented by Republican John Moorlach. Within the California State Assembly, the city is split between the 72nd Assembly District and the 74th Assembly District and is represented respectively by Republican Travis Allen and Republican Matthew Harper. The city is in the 48th district in the United States House of Representatives and is represented by Republican Dana Rohrabacher.
Demographic data about the local area residents
As of 2010, the population in Huntington Beach is 189,992. This is a slight increase of .2% from the 2000 census, when the population was 189,594. The population of the city consists of the following: 145,661 (76.7%) White, 1,813 (1.0%) African-American, 992 (.5%) Native American, 21,070 (11.1%) Asian, 635 (0.3%) Pacific Islander, 11,193 (5.9%) from other races, and 8,628 (4.5%) from two or more races.
Fun Facts about Huntington Beach
Huntington Beach is an ocean front city that is in Orange County, California. The city was incorporated in 1909. Huntington Beach was named after American businessman and local real-estate developer Henry Huntington. The city is bordered by Fountain Valley, Westminster, Newport Beach, Costa Mesa, Seal Beach and the Pacific Ocean. It is the largest ocean side city in Orange County. Huntington Beach encompasses 32 square miles and 8.5 miles of beaches.
Huntington Beach is known locally as "HB" and "Surf City, USA." This is the premier surfing location in Orange County, with good surfing waves throughout the entire year. In addition to surfing, the city hosts an annual beach volleyball competition, a biathlon and Junior Lifeguard Day Camps. The Fourth of July Parade has been happening annually since 1904. Every September, the city hosts the SoCal Independent Film Festival. Every December, Huntington Harbour is home to the Cruise of Lights Boat Parade. Every Tuesday night, throughout the year, Surf City Nights is held with a farmer's market, entertainment, food and kiddie rides.
Useful Resources
Official Huntington Beach Police Department Website
Get Information on The Superior Court of Orange County. http://www.occourts.org/
Need Info on Charges? Visit The Penal Code website.
Need to find someone in jail? Use the Orange County Sheriff's Inmate Locator: http://ws.ocsd.org/Whoisinjail/Search.aspx
You can always call us for any bail bonds questions, call now!